Kinder
£11.99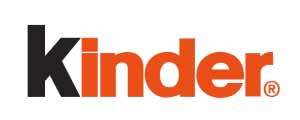 This holiday season, celebrate the magic of Christmas with the Kinder Advent Calendar. It's not just a countdown; it's a daily treat, a taste of the exquisite world of Kinder's finest chocolates. With 24 Kinder minis inside, get to savour tasty chocolate everyday leading up to Christmas.
Share the joy with your loved ones, and make this Christmas unforgettable with a Kinder surprise every day.
Kinder Advent Calendar 2023 :
Introducing the Kinder Advent Calendar 2023, a tasty journey of sweetness and surprise for the holiday season. This is not just any Christmas countdown; it's an invitation to experience the magic of Kinder's beloved chocolate creations.
Get ready to unwrap a daily dose of joy and indulge in the finest chocolate delights.
Who is Kinder calendar for?
The Kinder Advent Calendar is for everyone who loves delicious chocolate. It doesn't matter if you're an adult who remembers Kinder from childhood or a child who's trying it for the first time; this calendar is for all ages. It makes a great gift for families, chocolate enthusiasts, and anyone who enjoys the wonderful taste of Kinder chocolate.
Value and content of the advent calendar:
This calendar contains 24 Kinder minis: 12 country minis and 12 chocolate minis
The value of the products (24 Kinder minis) contained in this food advent calendar is not disclosed
=> Discover the full contents of this calendar in CALENDAR CONTAINS tab
Other Versions of this calendar:
You an find this calendar in the following versions:
Kinder discount code :
No Discount code for this advent calendar
Discover here all Advent Calendars with a discount code
Kinder Advent Calendar 2023 Release date:
The advent calendar is already available Amazon.co.uk
SPOILER :
Please note the full contents of the 

Kinder

2023 advent calendar : 

Inside the Kinder Advent Calendar, you'll find 24 delicious Kinder minis:
12 country minis
12 chocolate minis
The value of this advent calendar : Not Disclosed