Astrid & Miyu – 12 day
£331.00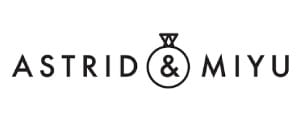 The ASTRID & MIYU 12 day advent calendar is the perfect gift to offer to someone you love or to yourself to wait for Christmas and feel feminine each day.
This 12 Day Advent Calendar in Gold is already our fastest-selling calendar ever, and it's no wonder why. It's your ticket to the ultimate ear stack, a journey through exquisite design, and a touch of everyday luxury. Hurry up, get yours now!
Plus: this jewellery advent calendar is available in 3 versions : 24 days Gold/Silver – 12 day in Gold – 12 day in silver (see description)
Astrid & Miyu - 12 day Advent Calendar :
Astrid & Miyu Advent Calendar 2023 – 12 Day :
Build the ear stack of your dreams with the Astrid & Miyu 12 Day Advent Calendar!
Featuring a selection of the brand's best-selling hoops, huggies, studs and ear cuffs, the calendar includes seven of the brand's best-selling styles. A true festive must-have for any jewellery lover.
With last year's advent calendar selling out globally in record time, don't wait to get yours
Who is the ASTRID & MIYU 12 day Advent Calendar for?
This jewellery advent calendar is perfect for elegant women who like fine and qualitative jewellery to wear with their everyday looks and who like to changes her jewels according to its feelings, outfits or event. Feminine women will enjoy looking at them each day and getting a nice collection of the best-sellers at home.
Contents value of this Advent Calendar :
Packed with a stunning selection of 8 pairs of earrings, 2 individual hoops, 1 ear cuff, and 1 barbell, this calendar offers an impressive variety of pieces to create the ultimate ear stack.
The value of products (hoops, huggies, ear cuffs…) contained in this jewellery Advent calendar is worth over £600
=> Discover full content in CALENDAR CONTAINS tab
Version available of this advent can :
ASTRID & MIYU present other versions of this advent calendar :
Exclusive version :
Astrid & Miyu code / voucher :
No promo / discount code available to this advent calendar at the moment
Advantage Astrid & Miyu : Free delivery UK
Find here all the Advent Calendars with a discount code
ASTRID & MIYU 12 day Advent Calendar 2023 Release Date
The advent calendar is available on AstridandMiyu.com Website
SPOILER:

Please note the full content of the 2023 ASTRID & MIYU  advent calendar 12 day :

This jewellery advent calendar contains 12 special pieces:
Moon Charm Crystal Hoops in Gold
Cosmic Dome Mini Hoops in Gold
Cosmic Crystal Cluster Studs in Gold
Moon Crystal Barbell in Gold
Cosmic Star Chain Stud Earrings in Gold (NEW IN)
Cosmic Star Charm Huggies in Gold (NEW IN)
Chain Link Huggie in Gold
Crystal Cluster Huggies in Gold
Glimmer Crystal Climber Stud Earrings in Gold
Cosmic Star Ear Cuff in Gold
Cosmic Star 6.5mm Hoop in Gold
Celestial Crystal 6.5mm Hoop in Gold
The value of product contained in this jewellery Advent calendar is worth over £600